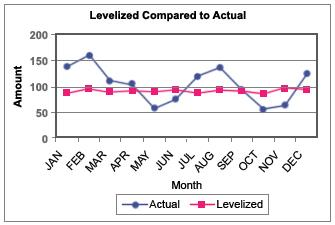 Are you tired of fluctuating energy bills that make it hard to budget your expenses? Do you wish you could pay the same amount every month for your electricity, instead of fluctuating wildly depending on the season?
If so, you might be interested in Levelized Billing, a highly convenient billing option from Craighead Electric that lets you pay a rolling twelve-month average for your energy costs.
Levelized Billing works by adding your current electric bill to your previous 11 months' bills and dividing by 12. This way, you get a consistent and predictable bill every month, even during peak cooling and heating periods. Levelized Billing does not reduce the total amount you pay for energy through the year, but it smooths out your highs and lows so you can plan ahead.
To be eligible for Levelized Billing, you must have been a Craighead Electric member for at least 12 months. You also need to have a good payment history, as late payments received two months in a row or three times in a 12-month span will result in immediate removal from Levelized Billing. For this reason, we highly recommend pairing Levelized Billing with AutoPay, which automatically deducts your bill amount from your bank account or credit card every month.
If you want to sign up for Levelized Billing, just give us a call at 1-800-794-5012 and we'll be happy to help you. Levelized Billing is a great way to make your energy costs more stable and manageable. Don't miss the opportunity to enjoy the benefits of Levelized Billing today!