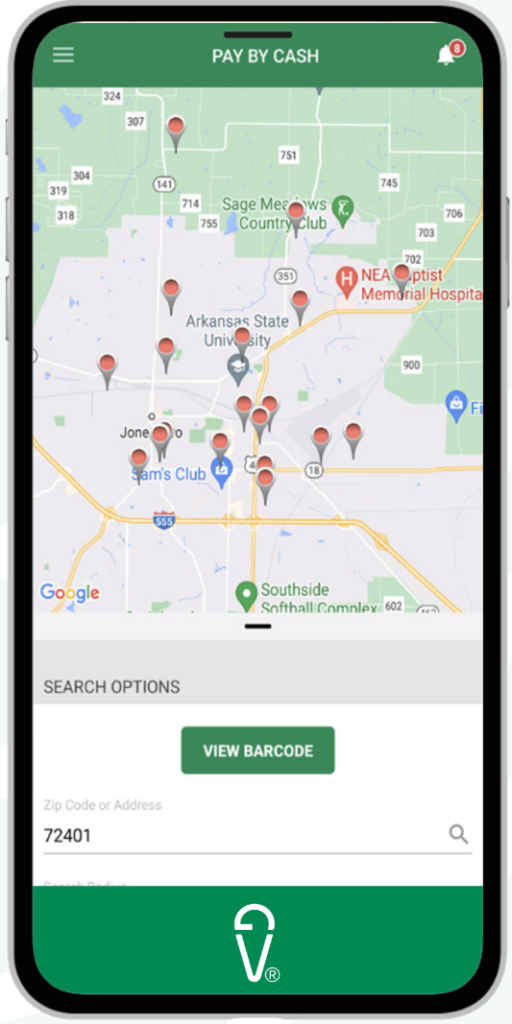 While you could always pay for your electric bill with cash, members were required to come all the way to a Co-op office to do so. Craighead Electric serves eight different counties in Northeast Arkansas, so that trip may be long and inconvenient. To better serve members in rural areas who would like to pay with cash, Craighead Electric is launching a new Pay by Cash option, allowing them to pay their electric bills at local retailers like CVS, Dollar General, Walmart and more.
The Pay by Cash service, provided by Vanilla Direct, is available at dozens of local retail locations. A member wishing to pay with cash provides a barcode at checkout, makes the payment, and receives a receipt. Payment is posted to the member's account instantly.
Each barcode is unique to individual accounts and can be scanned from the SmartHub app, from the back of your bill, or printed at home.
Find the new Pay by Cash screen in SmartHub by navigating to the Bill and Pay menu and click/tap on Pay by Cash.
Input your zip code and distance filter to see locations near you that accept Pay by Cash. Click/tap on the View Barcode button to display your barcode on your screen.
Note: This is a new service in this  area, and some cashiers may not be familiar with the process initially. We appreciate your patience in this situation. The location's manager on duty should be able to help with any issues you have at checkout.
We are excited to offer another service to make our members' lives more convenient. If you have any questions about Craighead Electric Cooperative's new Pay by Cash option, Contact Us.