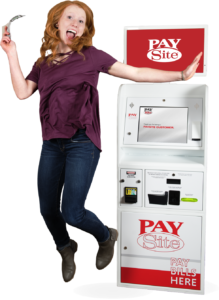 We are pleased to introduce another convenient way to pay your electric bill. Craighead Electric can now accept your payment at several conveniently located automated payment Kiosks. 
Simply locate a Pay Site kiosk, select Craighead Electric, enter your name and account number, select your payment type, make your payment, and retrieve your receipt. 
Payments can be made with cash, check, or card. Note that a transaction fee may apply.
Find a Pay Site Kiosk
at the locations below.
Bill's Cost Plus – 400

3605 E. Johnson Ave.
Jonesboro, AR 72405

Bill's Cash Saver – 405

405206 Hester Parker Dr.
Marked Tree, AR 72365

Bill's Cost Plus – 403

200 E. Johnson Ave.
Jonesboro, AR 72401

Hays – 6

2819 E Nettleton
Jonesboro, AR 72401

Harps – 190

2005 Harrisburg Road
Jonesboro, AR 72401

Bill's Cost Plus – 401

4225 Stadium Blvd. Suite A
Jonesboro, AR 72404