Craighead Electric Cooperative partnered with Today's Power, Inc. (TPI) and the City of Brookland in 2018 to build a 1-megawatt solar array in Brookland, AR.
"Craighead Electric is dedicated to providing our members with safe, reliable electricity in a cost-effective manner," said Brian Duncan, CEO of Craighead Electric. "Our board works to meet the needs of our membership both today and in the future. Our members will all share in the benefits from the renewable energy produced by the solar array."
The project features one of the most advanced single-axis tracking systems in the country containing 3,888-panels covering approximately eight acres of land. The solar site is in Brookland, Ar off State Highway 230 East. The system consists of 1.4 MW of DC installed and 1.0 MW of AC inverted. All the energy produced by the 1-Megawatt solar facility will be consumed locally.
This is the eighteenth project that TPI has developed in the state of Arkansas with others in Oklahoma, Kansas, Missouri, Indiana, Colorado, and Tennessee. "Solar and Storage is really the future of energy in Arkansas, says Michael Henderson, President of TPI. "This solar array allows each solar string to independently track the sun and self-power each row with its own solar power cell. This system comes with three weather stations to ensure maximum performance. It's truly a showplace for northeast Arkansas" he said.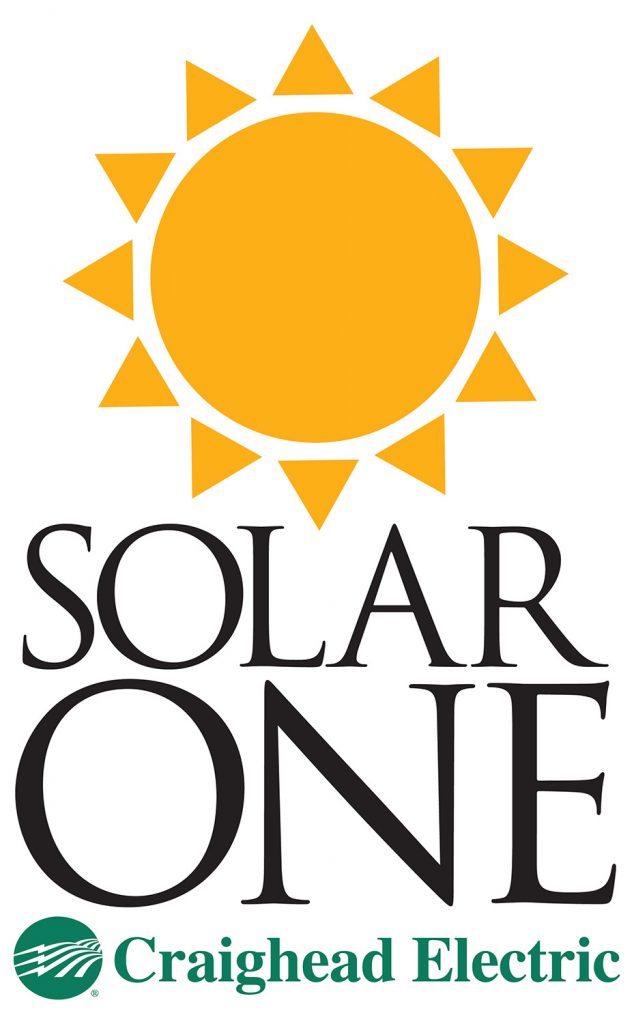 In addition, this partnership between Craighead Electric, Today's Power, the City of Brookland and Quail Forever will not only provide renewable energy to northeast Arkansas but also provide habitat important to pollinators and wildlife within the region. This habitat management plan's goal will be to ensure perpetual pollinator habitat for butterflies, bees, and other beneficial insects that are dwindling from the landscape, as well as other wildlife like cottontail rabbits, bobwhite quail, and Neotropical grassland songbirds.
"Partnering with local communities, such as Brookland, to bring utility-scale solar to our service territory and demonstrating the feasibility and affordability of using solar power in Arkansas is just part of providing concern for community and more value to be a cooperative member," said Duncan.
Kenneth Jones, Mayor of the City of Brookland, who was instrumental in helping find a suitable location for the solar generating facility said, "We appreciate the partnership between Craighead Electric Co-op and the City of Brookland. "Our town is one of the fastest growing towns in Arkansas and having a cutting edge, renewable source of energy available will enhance our ability to attract more retail businesses to Brookland."
Another partner in the project is The Northeast Arkansas Chapter of Quail Forever. The Quail Forever Chapter will be providing wildflower and native warm-season grass seed, coordinating procurement of planting equipment, providing volunteer planting labor, and involving a youth group like Boy Scouts of America or local school Agri-program during the establishment and monitoring process as part of the QF youth pollinator habitat program.
If your school, education, civic, etc. group or organization are interested in touring the Solar One facility please contact us.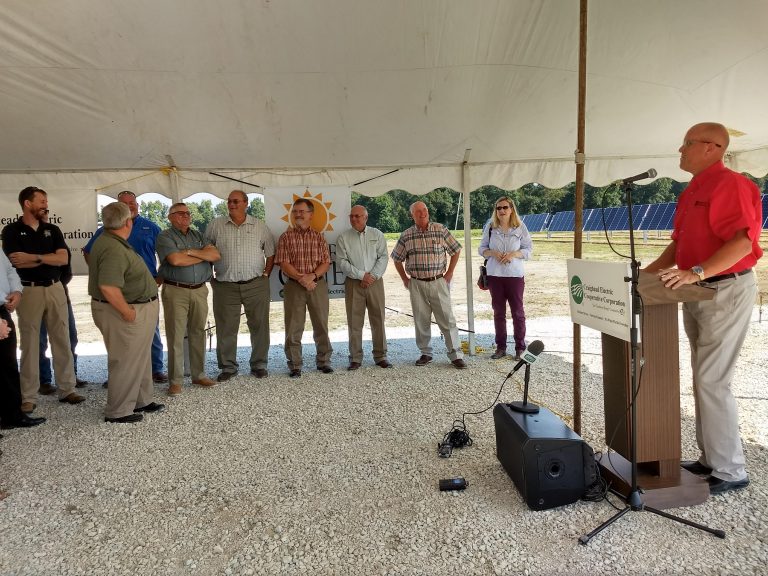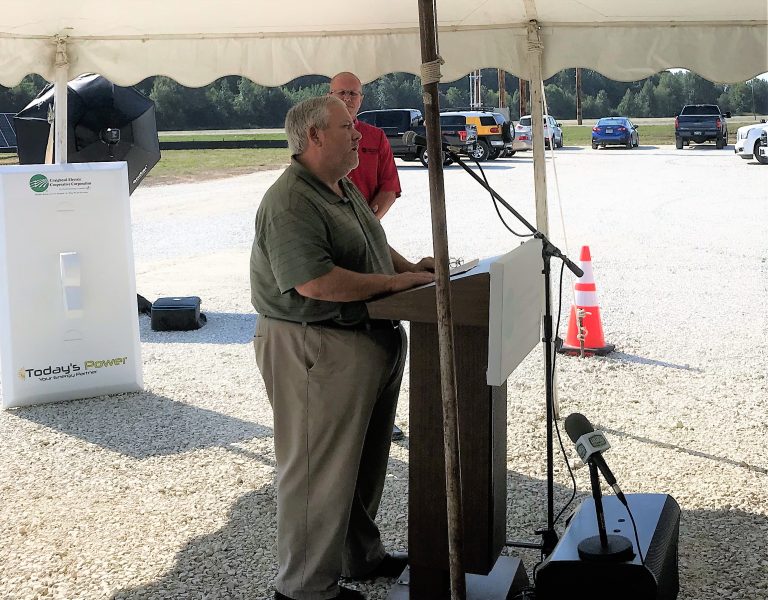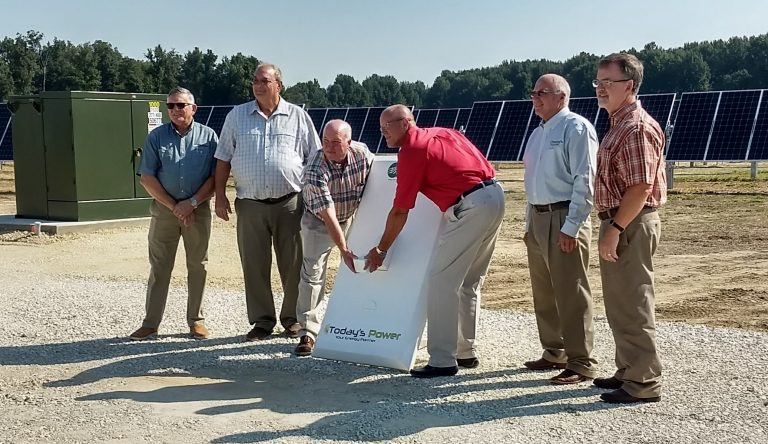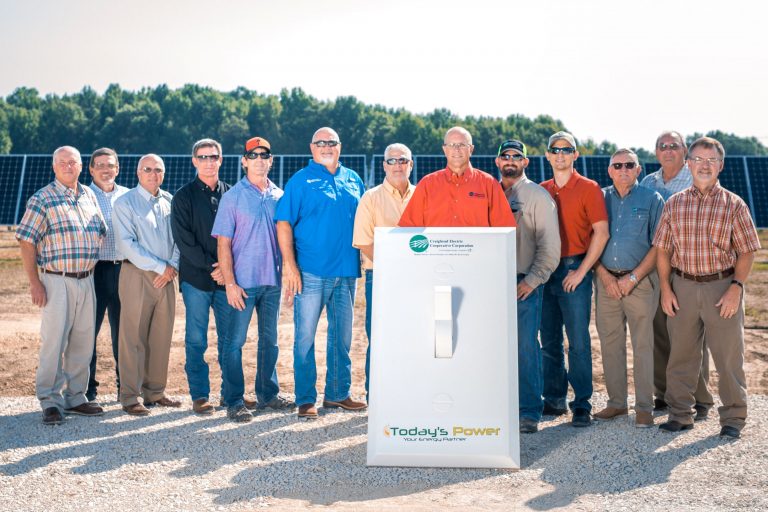 Construction of Solar One