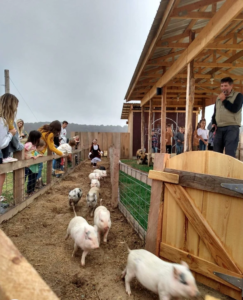 If you're looking for a fun and cozy way to spend a fall weekend, you should check out Jackson Farm in Black Rock. This charming farm has everything you need to enjoy the season with your loved ones. You can explore a huge corn maze, choose your fall pumpkins, play games, and join in on dozens of activities.
And the best part is, you can admire the stunning sunflower fields that are in full bloom and even enjoy live music from your favorite local artists each weekend. Jackson Farm is nestled among creeks, springs, a lake and beautiful hills, making it a scenic spot to relax and have fun. The farm opens its doors to visitors every weekend beginning in late September to celebrate the fall harvest.
And don't forget to bring your camera, because you'll find plenty of photo-ops on the farm. You can snap some selfies with the sunflowers, pose with the pumpkins, or capture the corn maze adventure. You'll love looking back at these precious moments. empower, Delivered by Craighead Electric partners with Jackson Farm to provide the reliable high-speed internet required to operate this incredible farm. They also offer public Wi-Fi to all visitors, so you will never miss an opportunity to upload your best photos. The farm is a cashless operation (so bring your cards), but a cash conversion station is available for your convenience. This is one of the best fall festivals in Arkansas, and we are so lucky it's nestled right here in Northeast Arkansas. You'll want to come back again and again.
Jackson Farm is open every weekend from Sep. 30 through Nov. 5. Their hours are Saturdays: 10 a.m.-7 p.m. and Sundays: noon-7 p.m. Visit them at 2798 Highway 117, Black Rock. Learn more at visitjacksonfarm.com.