Jonesboro, AR. — June 27, 2023 (9:00 p.m.) —
Craighead Electric Cooperative Corporation (CECC) is working hard to restore power to its members after the strong winds that swept through the area on Sunday, June 25, 2023. Since then, CECC has brought back electricity to about 5,400 members across its service territory.
One of the main challenges CECC has faced in the last three days was an isolated section of the distribution line. With the help of mutual aid, CECC was able to repair the considerable damage directly affecting nearly 1,000 members.
Restoration in Lawrence County has been completed and all members in that county have been restored.
The damage surrounding Payneway was vast, but crews continued to work diligently into Tuesday night. Crews will resume operations at daybreak on Wednesday. Any members currently without power can expect restoration by Wednesday, June 28, 2023, at the earliest.
CECC thanks its members for their cooperation and support during this storm recovery process. CECC hopes to complete the restoration work as soon as possible and resume normal service.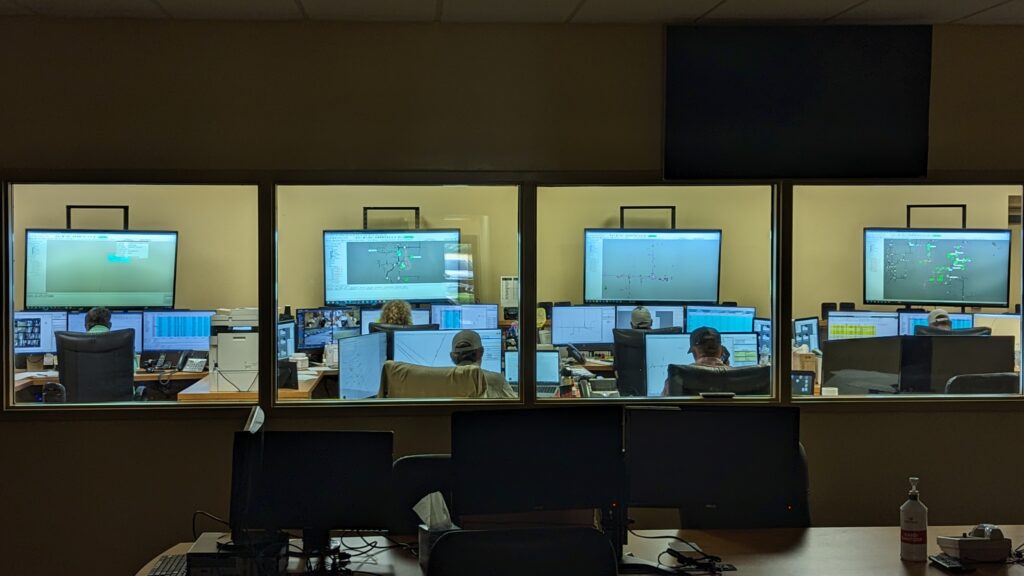 Jonesboro, AR. — June 26, 2023 (5:30 p.m.) —
Craighead Electric Cooperative Corporation (CECC) continues restoration efforts following straight-line winds on Sunday, June 25, 2023. In the last twenty-four hours, CECC has restored electricity to approximately 4,700 members spanning the service territory by repairing more than 117 poles and 75 cross-arms.
CECC, Arkansas Electric Cooperative Inc., Mississippi County Electric Cooperative, and SEC crews have concluded repairs to the transmission infrastructure. The primary focus currently is repairing the distribution network to restore power to all affected members.
Qualified personnel will continue to work as late as possible tonight, and resume operations at 6:00 a.m. on Tuesday, June 27, 2023. With the possibility of extended outages, the cooperative advises members to prepare for outages to extend into Tuesday, June 27, 2023.
CEO Jeremiah Sloan detailed the recovery process for the cooperative, "I'm proud of the progress we have made in the last twenty-four hours. With damage this widespread, rebuilding an infrastructure takes time. Our team has worked consistently, and progress is evident. This would not be possible without mutual aid from other utility providers throughout Arkansas."
Jonesboro, AR. — June 26, 2023 (9:30 a.m.) —
Craighead Electric Cooperative Corporation (CECC) of Jonesboro reports approximately 5,700 members were without electricity at the peak of the windstorm. Winds exceeding sixty-five miles per hour caused destruction in Poinsett, Crittenden, Craighead, Lawrence, and Greene counties.
Following the straight-line winds, CECC received extensive damage to the transmission infrastructure feeding the McCormick and Marked Tree substations, along with more than 90 broke poles across the territory. All qualified line personnel available began restoration efforts as soon as the storm passed and will continue to work ceaselessly through today and into tomorrow to repair damage to both the transmission and distribution systems.
CECC's CEO, Jeremiah Sloan stated, "Line crews from across the state have been called to help return power to our members. With this storm, restoration is imperative as extreme heat moves into Arkansas. We will continue to work diligently until each member has electricity. I'm proud of the dedication and tireless efforts our employees have shown to take care of our members and I'm thankful for the aid we're receiving from other utilities to expedite the recovery process."
Craighead Electric Cooperative serves approximately 31,000 meters in eight counties in Northeast Arkansas. Incorporated in 1937, the cooperative operates offices in Jonesboro, Walnut Ridge, and Paragould. The locally owned and managed organization has 108 employees. The cooperative's wholly owned subsidiary,empower, has over 30 employees and serves just over 14,000 internet subscribers.
For additional information, contact:
Marti Lynn Hook, Craighead Electric Cooperative, 870-932-8301, mhook@craigheadelectric.coop
www.craigheadelectric.coop