Rooftop solar is a popular energy alternative that many electric consumers are considering to generate power at home. Many farmers are utilizing some of the land usually reserved for farming crops for solar fields to power their farm operations. But as these power-generating systems are installed, some areas of Craighead Electric Cooperatives service territory have reached their limit for solar installations.
Once an area has reached the set limit of distributed energy resources (or DER), that area is considered 'saturated' and no additional solar power systems can be interconnected in that area. See the map below for areas that are currently considered solar-saturated.
This does not mean that members in these areas cannot own and operate a solar panel system. One of the benefits of Craighead Electric's Net Metering program is the fact that solar panels don't have to be installed anywhere near the meter receiving energy credits. Kilowatt-hours generated from a remote solar panel system can be credited to a member's account even if they are in a different county. As long as the solar panel system and the account receiving kilowatt-hour credits are owned by the same member, it would work the same as if the panels were on the member's roof.
Do you have questions about solar power? Contact us and ask your trusted energy partner at Craighead Electric Cooperative.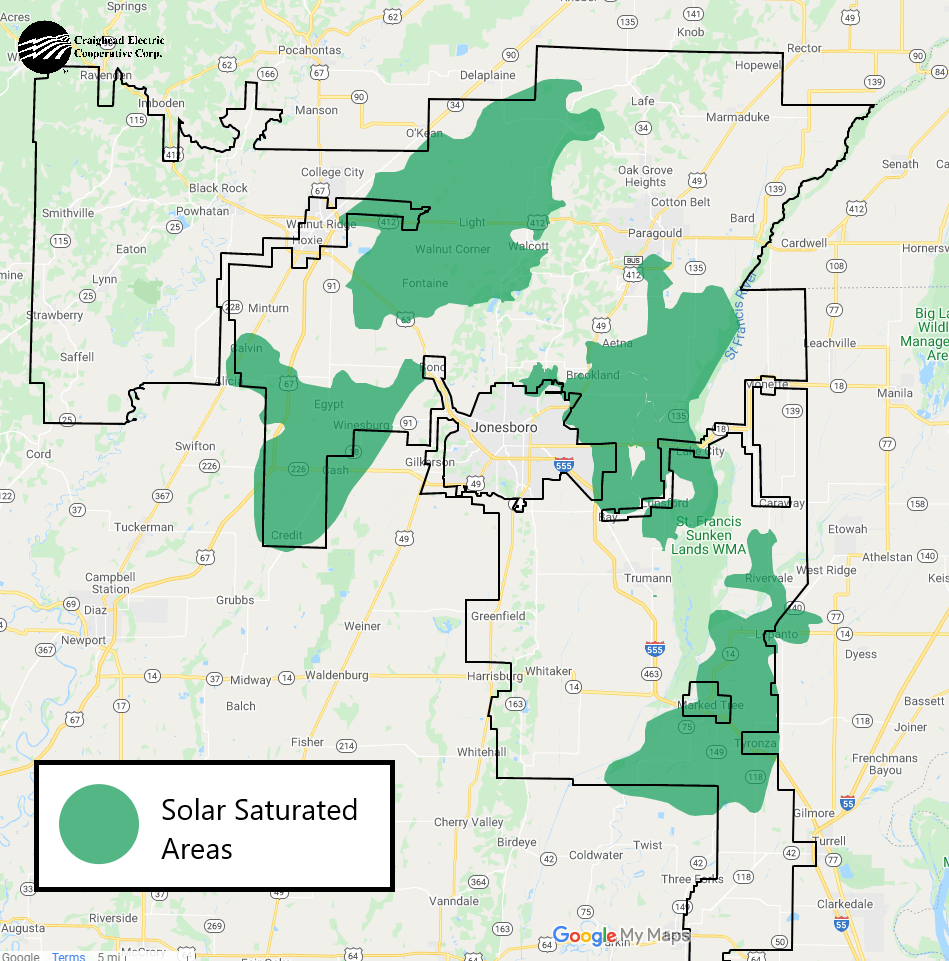 A limited amount of distributed energy resource (DER) hosting capacity is available in each area. DER hosting is made available to members on a first-come-first-serve basis. That is, once an area has reached its limit, no further Net Meters can be installed there. Click for a detailed map view of the green areas that are currently considered saturated.
Percentage of CECC meters currently considered solar saturated.