ELECTRIC GENERATION
Craighead Electric Cooperative purchases all electric power from Arkansas Electric Cooperative Corp.(AECC). AECC was created on July 11, 1949 to provide Arkansas' electric cooperatives with a reliable and affordable power supply. Based in Little Rock, AECC is owned by Arkansas' 17 electric distribution cooperatives and is one of the top generation and transmission cooperatives in the nation. The generation and transmission cooperative has assets of about $1.8 billion and annual energy sales of about $727 million.
AECC owns or has purchase power agreements for a total of 4,280 megawatts of generation capacity. AECC's generation plants include three natural gas/oil-based plants, three hydroelectric generating stations on the Arkansas River, and four natural gas-based plants. AECC also owns portions of four coal-based power plants in Arkansas.
In addition to its owned generation assets, AECC has purchase power agreements for additional energy resources including hydroelectric energy from the Southwestern Power Administration, biomass energy, wind energy and solar energy. Altogether, the total amount of these resources represents more than 18 percent of the cooperative's generation and energy portfolio.
Collectively, Arkansas' electric cooperatives provide a diverse and reliable generation mix to more than 500,000 homes, farms and businesses in Arkansas and surrounding states.
For more information about Wholesale Power Resources click here.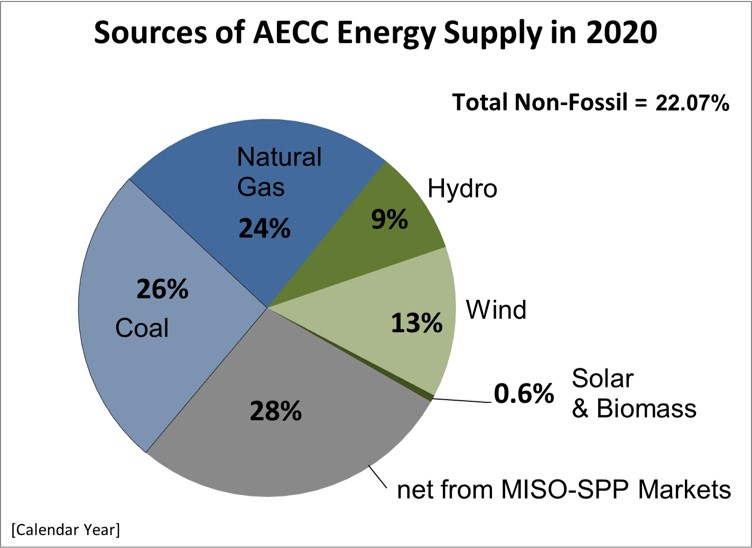 Regional Transmission Organizations